Learnings after leaving my career to save the world
Taking part in the ongoing Great Resignation  —  the trend where employees voluntarily resign in mass  —  I left my game industry job in Fall 2021 to pursue greater personal meaning: Societal change.
In pursuing a more meaningful life, I forwarded plant-based initiatives, co-founded a non-profit animal rights community called Viral Vegans, and now joined Avoin's team of writers.
Changing careers seems terrifying and can include bumps on the road, but I have never been happier. If you can, give it a shot to follow your dreams!
The 5 things I learned:
1. You feel better doing what you love

The career ladder you are higher on but do not enjoy climbing is worth ditching to start climbing the ladder you love. Progressing will feel fantastic instead of being even more stuck.
2. You have transferable skills

You will have gained valuable skills in your former career. For example, I utilized my user research skills to iterate and write successful plant-based initiatives.
3. You discover minimalism

My trade-off was less money for fullfilment. First, I moved to a smaller flat. I could not fit all my stuff and sold some. Even in a stable situation, I realized more stuff does not make me happy.
4. You start a snowball effect

Leaving my current career for my passion started a fearless process of self-actualization: I discovered writing is my main creative outlet, stopped doing things I do not like, and embraced the new.
5. You like yourself more than ever

I cannot express how grateful and extremely lucky I feel to have discovered and done so many meaningful things I love. Another rewarding aspect at the moment is being my own boss.
My story from game development to activism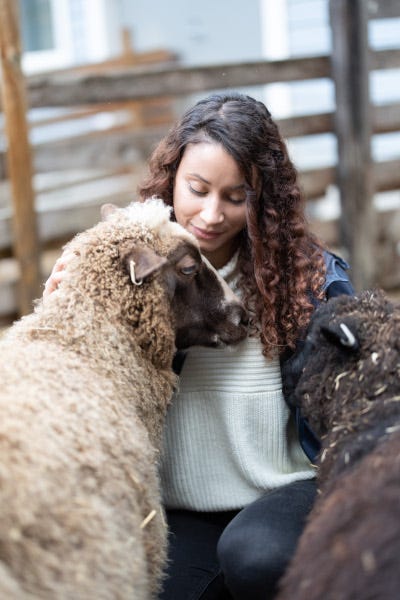 Climbing the user research ladder

Doing games user research (GUR) for a large gaming company seemed like the dream. As a child, I was fascinated with the idea of looking into people's brains with scanners to find out what they were thinking. The truth is that questionnaires, interviews, and observations are the best and fastest tools. I always played various video games, and the gaming atmosphere was fun. Moreover, people stroked my ego by telling me they loved my employer company. Therefore, during my two years in the gaming industry, I focused my energy on career development.
I quickly forgot that writing was my passion, interviewing people and researching a smörgåsbord of exciting topics. I've written for outlets, mainly in Finnish, for nearly seven years. Writing has also been my tool for societal change and sharing ideas. Filling two needs (writing and change-making) with one deed. In the gaming industry, there was no time left for active freelance journalism, not to mention hands-on activism. Therefore, I was stuck primarily compiling long research reports.

I met and interviewed Avoin briefly in 2019 while writing a piece on them for Helsinki Think Company. This registered non-profit received funding of €65,000 from Ålandbanken's Baltic Sea Project. Their globally scalable hackathon-born idea of producing value for landowners through their sustainable development map was the star of the piece.
We became friends with Avoin, and later the same year, they hired me to write about Eko Game Jam, which combined ecological data with fun game jamming. Sitra, The Finnish Environmental Institute (SYKE), and Arctic Center gave jammers presentations showcasing their Lifestyle test, Climate diet calculator, and the decline of the polar bear population. The provided information inspired 11 game prototypes. As a game enthusiast, I participated in the event and wrote about my jam experience.
Finding fulfilment in change-making

Even if I grew up enjoying video games and loved the industry atmosphere, it felt like I was living someone else's life. I was promoted and felt competent at my job. Nevertheless, conducting analysis and writing research reports did not fulfil my strong creative need nor offer enough personal meaning. Making the world a better place was why I started studying political sociology in the first place, even if my master's thesis found itself in examining how gaming communities forward their interests.
Immediately after I left my job, which wasn't as horrible as I thought, I began writing for more outlets again and looking at social movements. Animal rights became a major part of my life. I became especially active in writing and lobbying plant-based initiatives in a new group. From the group, we later founded the non-profit activist community Viral Vegans. Thanks to user research, we placed a lot of value on feedback, which enabled us to iterate on our main initiative getting a majority acceptance. It took a lot of time and effort, but it was all worth it:
The student unions of The University of Helsinki and The University of Lapland, and The National Union of University Students in Finland (by the end of the year), are all plant-based in their events and meeting servings.
Filling the creative need with writing

Right after leaving, I consulted on user research for Forest Kids, a game produced by Avoin for The Food and Agriculture Organization of the United Nations (FAO). Because I honed my user research skills through work, seminars, and industry literature, it still seemed like the solution to support myself financially. The sunken cost fallacy is hard to shake. Why not just make your passion your number one thing with every customer? My creative pull was fulfilled only after I was brave enough to replace user research with writing full-time, which also includes advancing my first book.
Avoin is a sustainable development network in the IT sphere with many globally impressive projects aiming toward carbon neutrality and a just society. I am privileged to write about their upcoming transnational project of reintegrating land and livestock without forgetting animals have an intrinsic value, not being "livestock". Added animal welfare benefits include increased time outdoors, in the continuum of ideally being able to live their whole life fully. At the same time, there could be biodiversity, environmental, and soil health benefits. Avoin's project could be major in the development of the wider EU circular (agricultural) economy. You can find out more from my next Avoin entry, where I interview project experts.
Post Scriptum
In this entry, I introduced myself as a new writer for Avoin. Our future posts will focus on Avoin's projects, experts, and technology. Potential additional personal posts will be about living a plant-based life.
---
Written by Sari Kivijärvi. This text is the sixth post in a blog series by Avoin. The blog series discusses environmental protection and sustainable development from the digital point of view.
This blog post was first published via Medium.